Boogie Down The Road (Live)
2018 - Grooveyard Records
Produced by Jimi Barbiani
Audio Cd 15 € with shipping!
Vinyl 20€
---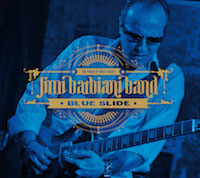 Blue Slide
Produced and Mixed by Jimi Barbiani. 2014
All songs arranged by Jimi Barbiani Band with Special Guests Johnny Neel(Allman Brothers Band-Gov't Mule)Cameron Williams(Tishamingo)Gianni Massarutto and more Blues Musicians!
Distribuited in Italy by Andromeda Relix
Distribuited outside of Italy by Grooveyard Records
Audio Cd 15 € With shipping!
---
Back on the Tracks
Produced by Jimi Barbiani. Mixed by Jimi Barbiani.
Recorded, mixed and mastered at Saojo Studios Udine, in 2010.
All songs arranged by Jimi Barbiani Band.
---
Audio Cd Digipack Edition: 12 € with shipping
Audio Cd Special Edition (Velvet Cover): Out of Stock.
"Back on the Tracks" Previews
Unreleased Live Bootleg
Live Bootleg tracks from Summertimeblues Festival 7/2013
Full Concert Free Download "Live Bootleg at Summertimeblues " 2013